Birthday Special: Ten most iconic movies of actor Manoj Bajpayee on the occasion of his birthday
Mumbai (Maharashtra): Few come from nowhere and make their mark in Bollywood. Who would have thought, that the son of a farmer from a small village in Bihar, would go on to become one of the most prolific Bollywood actors. Manoj Bajpayee is a name that is taken along with words like dedication and talent. He has created a niche for himself by bringing to life the most complex and unconventional characters and giving them a soul of their own. But being from a small village, the actor had to struggle a lot to make his presence known in an industry that is not kind to strangers. He has time and again talked about his endeavours giving an insight into the strong and resilient man that he is.
The actor who carved his path in the film industry is now a three times National award winner with several Filmfare. The actor was accoladed with Padma Shri in 2019 for his immense contribution to the film industry.
On the occasion of Manoj Bajpayee's 52nd birthday, here is a chronology of 10 classic movies and series from the vast list of his iconic filmography.
Bandit Queen (1994)
Bandit Queen is one of those movies that becomes classic right from its release. Bandit Queen was Bajpayee's first major role as he starred alongside versatile actress Seema Biswas. Tigmanshu Dhulia was the casting director in the film and had recommended Bajpayee's name to director Shekhar Kapur. Although he was auditioned for the role of dacoit Vikram Mallah, he ended up bagging the role of dacoit Maan Singh and etched his name in the viewer's hearts.
Satya (1998)
The film Satya can never be remembered without Bhiku Mhatre. Satya became Manoj Bajpayee's first big role in a mainstream movie. Although he had done a few films before this, they were all small supporting characters. As director Ram Gopal Verma expressed his regret for not giving the actor a better role in Daud, he made sure to cast him in a bigger role for his next. Bagging Satya was a great opportunity for the actor and he turned that opportunity into gold. The film garnered him the National Award for the best supporting role and a Filmfare Critics choice for Best Actor.
Kaun? (1999)
Kaun? Is not a very known film of RGV but is considered a cult classic among movie lovers. It was Manoj Bajpayee's second movie with Urmila Matondkar, the first being Daud. Although Urmila's role in the movie is commendable, Bajpayee complemented the actress well. This showed that the star wasn't afraid to give limelight to his co-actresses at a time when actors were seriously offended by such scripts.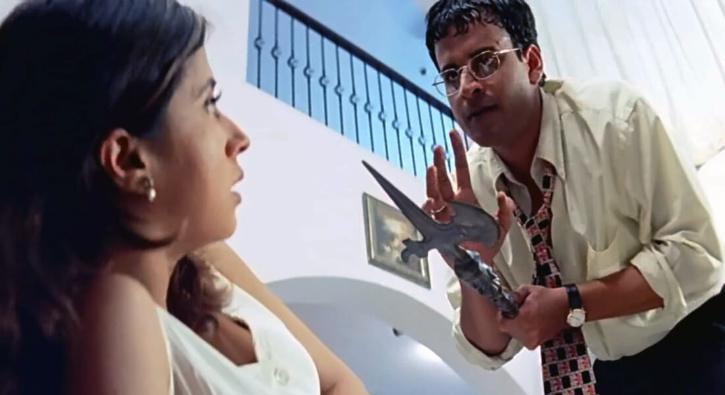 Zubeidaa (2001)
Zubeidaa is another such film where Manoj Bajpayee complemented actress Karisma Kapoor well. The movie is known for Kapoor's powerful acting, but Bajpayee's portrayal of Maharaja Vijayendra Singh left the audience in awe of his regality. The actor portrayed a king with such ease, that one would have thought him to belong to a royal family. The film displayed how Manoj could pull off any character with equal proficiency.
Pinjar (2003)
Pinjar is another such classic. Manoj Bajpayee played the male protagonist Rashid who is in love with Urmila Matondkar's character Puro. He pulled off the one-sided love chemistry with Matondkar so beautifully that it made the film greater than it already was. Not just that, but the heartbroken man's emotions that he portrayed during the climax gripped everyone's heart, making it one of his most iconic roles. The film gave him his second National Award.
Swami (2007)
Swami is not a very popular film of the actor where he portrayed the titular character. However, the film shows a side of the actor that was never expressed before. He plays a common man and the story revolves around his life. A common man with a wife and a very simple story is something that Bajpayee hadn't tried before. He delivered an incredible performance and proved his versatility when it comes to acting.
Gangs of Wasseypur (2012)
No one needs an introduction to this film. And no one needs an introduction for Manoj Bajpayee's role as Sardar Khan. From iconic lines such as "Chaabi Kahan hai? (Where is the key?)" to his classic introduction "Sardar Khan Naam hai humara…bata dijiyega (My name is Sardar Khan…tell them)". Gangs of Wasseypur is considered one of the biggest films in Manoj Bajpayee's career that gave him the status of a star in Bollywood.
Aligarh (2015)
Aligarh marks another prolific act done by Bajpayee. His role as Prof. Ramchandra Siras showed him how vulnerable he could be and how he could bring a character to life with his performance. He had studied Prof. Siras, the man who inspired the film, to get into the character. The film bagged him the Best Actor award at the Asia Pacific Screen Awards and his third Filmfare Critics Award for Best Actor.
Traffic (2016)
Traffic was a remake of the 2015 Telugu movie with the same name and yet Bajpayee managed to make the role his own. He portrayed the role of constable Ramdas Godbole with such ease that it became difficult to differentiate the actor from his character. Well, isn't that the speciality of the actor?
The Family Man (2019)
Who wouldn't know The Family Man? Manoj Bajpayee's character Srikanth Tiwari is an icon who is quoted by youths every day. The actor portrayed the role of an intelligence officer for the Threat Analysis and Surveillance Cell (TASC). He not only was bang on with his actions sequences and acting, but the way he delivered his lines will always stay iconic.
Happy Birthday to this amazing icon who has not only stolen our hearts but ignited our passion for unconventional movies!