Indian Army rescues more than 1000 tourists stranded in Sikkim due to heavy snowfall
Sikkim: The Indian Army rescued more than 1,000 tourists, who were stranded in the upper reaches of East Sikkim at Chhangu following a heavy spell of snowfall, officials informed on Friday.
The rescued tourists included the elderly, women as well as children.


Earlier, on March 12, the Indian Army, in collaboration with civil police and administration, rescued 370 tourists stranded due to heavy snowfall in East Sikkim, an official release stated.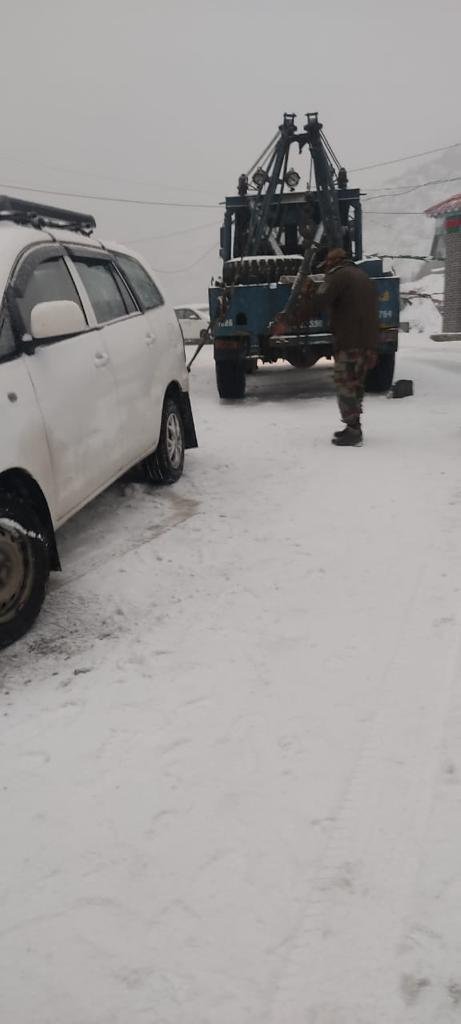 The tourists were returning from Natu La & Tsomgo (Changgu) Lake when about 100 vehicles got stuck in heavy snowfall, it said.
Troops of Trishakti Corps in collaboration with the civil police and administration launched a rescue mission -- 'OPERATION HIMRAHAT,' which continued through late night on March 11, the statement said.
Further, according to the statement, the tourists were moved to safe areas and provided shelter, warm clothing, medical aid and hot meals.
Detailed coordination was done with the General Reserve Engineering Force (GREF) for road opening in the morning, the statement informed further.
On the morning of March 12, the road opening work was taken up with the assistance of GREF dozers. By 9 am, the road was cleared to enable the movement of vehicles to Gangtok, it said.
The quick reaction by the troops provided relief and comfort to the stranded tourists under inclement weather conditions and ensured early clearance of the road to enable the movement of vehicles to Gangtok, the statement said.
Stranded tourists and the civil administration of Sikkim expressed their gratitude for the timely relief provided by the Army, it said.
The Army, while guarding the border in Super High-Altitude areas of the Himalayas, are always proactive in providing assistance to tourists and the local population, the statement stressed. (ANI)