Delhi cold wave hits people's funny bones, sparks meme fest on social media
New DelhiI: The capital, on Sunday, shivered in freezing cold with the mercury hitting as low as 1.9 degrees Celsius in several regions. Amid the spine-chilling weather rattling everyone to the bone, the internet has erupted with a massive wave of memes on the occasion.
As the thick fog began slowing down the speed of traffic outside, the speed of netizens posting hilarious punches on social media increased. Taking to Twitter, several users began posting jokes and funny images relating to the ongoing cold wave that has overtaken North and Central India in the past few months.
One user shared a meme titled "This is how I wanna spend winters". The image featured a woman carrying her bed, pillow and blanket to the bus station, a coffee shop and to work.


Another user shared a meme showcasing the immediate difference between the weather '3 days ago' and 'right now'.
"It's bone-chilling cold in New Delhi Time to break out the warmest coat and scarf you've got Anyone else feeling like a human popsicle?" he wrote in the caption.


Yet another user hilariously put the blame for being unable to wake up during winter on blankets
"All blankets are the same, subah nikalne hi nahi dete bahar....(they don't allow us to move outside them in the morning)," he wrote.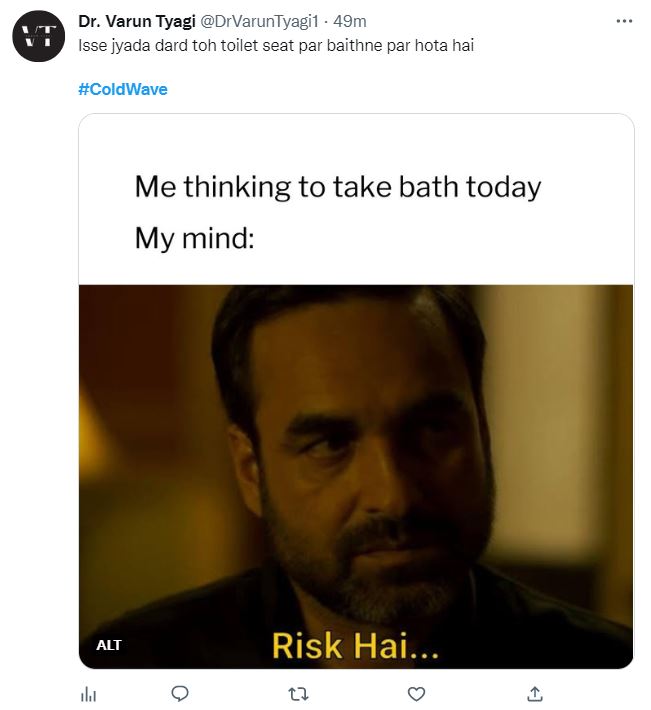 Meanwhile, another user shared a meme about taking a bath during winters, featuring a still of actor Pankaj Tripathi from his web-series 'Mirzapur'.
'Isse zyada dard toh toilet seat par baithne par hota hai' (Sitting on the toilet seat is even more painful than this), the user wrote in his hilarious caption.


In yet another winter bath meme, a user shared an image featuring the sunlight-obsessed alien character 'Jaadu' from Bollywood film 'Koi... Mil Gaya'.


A user even threw in a little political jab in his winter punchline, as he wrote, "It's so cold in Delhi that I saw a politician with his hands in his own pockets for once".
Amid a cold wave prevailing in parts of northern India, Safdarjung in Delhi recorded a minimum temperature of 1.9 degrees Celsius, the India Meteorological Department said on Sunday.
Meanwhile, Aya Nagar also in Delhi recorded a minimum temperature of 2.6 degrees Celsius, while Lodhi Road recorded 2.8 degrees Celsius and Palam 5.2 degrees Celsius, the IMD added. (ANI)