New Parliament inauguration: PM Modi begins puja, receives 'Sengol' for installation
New Delhi: Prime Minister Narendra Modi arrived at the new Parliament building for its inauguration ceremony on Sunday.


The ceremony has begun with a traditional 'pooja' with Vedic rituals which will continue for an hour. Lok Sabha Speaker Om Birla was also present with along with PM Modi during the pooja. After the puja, Prime Minister received the 'Sengol' and install it in the new Parliament. The inauguration will take place in two phases. The pooja was being held in a pandal (canopy) near the Gandhi statue in Parliament.


It is learnt that after the pujas, the dignitaries will examine the premises of the Lok Sabha's chamber and the Rajya Sabha chamber in the new building. It is likely that the sacred 'Sengol' will be installed in the Lok Sabha chamber, right next to the Speaker's chair, after performing some rituals, for which priests from Tamil Nadu, including the original jeweller who designed it, will be present.
The morning phase will end at close to 9:30 am after which the second leg of the ceremony is expected to begin at noon with the singing of the national anthem in the Lok Sabha chamber in the presence of all the dignitaries including PM Modi.


At 11:30 am, all the invitees including members of Parliament, Lok Sabha Speaker and Rajya Sabha, chairman and other distinguished guests are expected to be seated in the Lok Sabha chamber in the new building.
During this phase, a speech will be delivered by the Deputy Rajya Sabha Chairman, Hariwansh, who will further read a written congratulatory message on behalf of Rajya Sabha, Chairman, Jagdeep Dhankar. A written message by President Droupadi Murmu will also be read out on the occasion.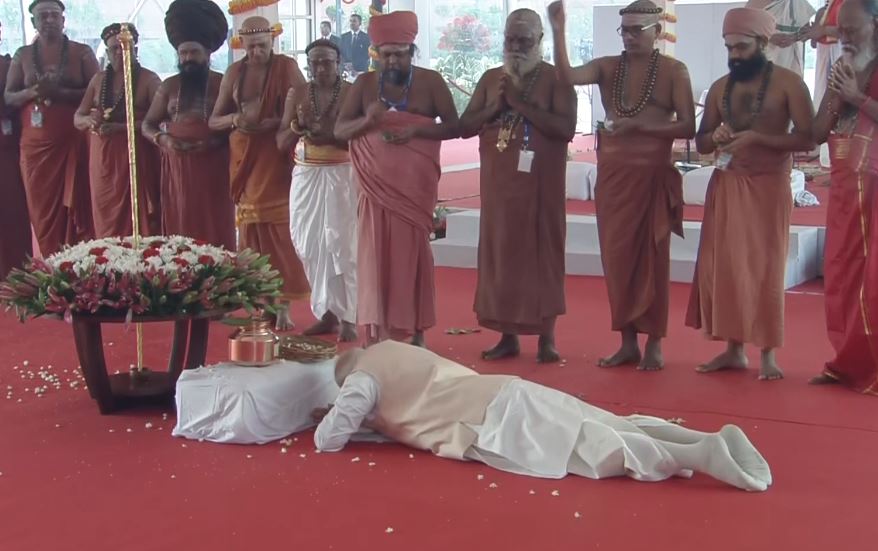 The present building of the Parliament was completed in 1927, and is now going to be almost 100 years old. The lack of space was being experienced in this building as per the present requirements. In both Houses, there was also a lack of convenient arrangements for the sitting of the MPs which was affecting the efficiency of the work of the Members.


Considering the above, both the Lok Sabha and the Rajya Sabha passed resolutions urging the government to construct a new building for the Parliament. Consequently, on 10 December 2020, the foundation stone of the new building of Parliament was laid by Prime Minister Narendra Modi. The newly constructed Parliament building has been built in record time with quality construction.
Now the newly constructed building of Parliament, which will work to further enrich India's glorious democratic traditions and constitutional values, is also equipped with state-of-the-art facilities which will help the Members to perform their functions in a better way.
The new Parliament building will enable 888 members to sit in the Lok Sabha.In the present building of the Parliament, there is a provision for the sitting of 543 Members in the Lok Sabha and 250 in the Rajya Sabha.
Keeping in view the future requirements, arrangements have been made for a meeting of 888 members in the Lok Sabha while 384 members in the Rajya Sabha in the newly constructed building of the Parliament. The joint session of both Houses will be held in the Lok Sabha Chamber. (ANI)